It seems as if the only words I have for this space lately are grieving ones. I write much behind the scenes, for studies, for newsletters, for other blogs. But my words for my own blog seem to come only when my heart is stirred with pain. Today I had to watch yet another friend grieve the untimely loss of a father. And as friends grieve, I cannot grieve alongside of them without entering into my own.
My heart aches for them, for me, for all that's been lost. All that is no longer. All that will never be.
For the Christian, we know there is always great hope, even within our deep pain. However, we often don't always know how to experience that hope alongside our troubles.
As I write in my new Everyday Hope study, hope is not a verb. It is not a job I need to go and do better at. When I "lose hope" the solution is not to figure out how to be more hopeful, as if it were a state of mind I must fight for. For the Christian, hopelessness is forgetfulness. When I forget what is true — especially during the times of tears and dark days — despair takes over. Instead, I must remember who God is, and who I am because of Christ, regardless of what my situation is screaming at me.
Remembering who God is and how much He loves me doesn't make me numb to the pain, or impervious to the shock and sorrow that comes with a great loss. But remembering does allow me to see the hope I've had all along. Hope is not something we do to escape the storm. Hope is what we hold fast to as we endure each wave.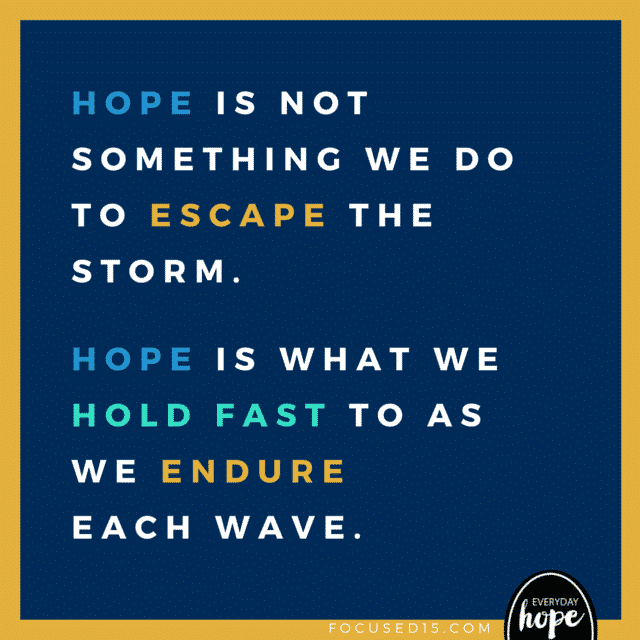 Our hope is only found in the glorious truth of the Gospel. There is much we have to hope in, through Christ. Here are five truths, specific to our pain and tears, we can cling to.
Five Truths to Treasure through My Tears
God knows my tears. Every one. Just as he numbers every hair on my head, every star in the sky, every grain of sand on the seashore, he numbers my every tear. The sad ones. The angry ones. The sin-stained ones. The happy ones. I am never alone. Never forgotten.
You have kept count of my tossings; put my tears in your bottle. Are they not in your book? . . . This I know, that God is for me. In God, whose word I praise, in the LORD, whose word I praise, in God I trust (Psalm 56:8-11 ESV).
Jesus enters into my grief. When Jesus saw Mary, grieving over the loss of her brother, He wept. He was present in that moment and entered into grief with her and the others weeping. I have the Spirit of the living God within me, and when I weep, He is present in my grief.
When Jesus saw her weeping, and the Jews who had come with her also weeping, he was deeply moved in his spirit and greatly troubled . . . Jesus wept (John 11:33-35 ESV).
Jesus knows my pain. It's one thing to say that God sees and enters into my pain. It is quite another to know that He humbled Himself, limited His divine nature for a time, and became human so that I could be with Him forever. Jesus loved. Jesus lost. Jesus grieved. He knows the pain I am feeling.
He was despised and rejected by men; a man of sorrows, and acquainted with grief . . . Surely he has borne our griefs and carried our sorrows (Isaiah 53:3-4 ESV).
God will wipe every tear from my eye. Every single one. He sees every tear. He cares about every cry. He redeems every pain.
He will swallow up death forever; and the Lord GOD will wipe away tears from all faces, and the reproach of his people he will take away from all the earth, for the LORD has spoken. It will be said on that day, "Behold, this is our God; we have waited for him, that he might save us. This is the LORD; we have waited for him; let us be glad and rejoice in his salvation." (Isaiah 25:8-9 ESV).
My tears will end. My pain. My ache. This emptiness that longs for death to end. It will all be taken away and replaced with the all-consuming, completely fulfilling, perfectly healing presence of God.
And I heard a loud voice from the throne saying, "Behold, the dwelling place of God is with man. He will dwell with them, and they will be his people, and God himself will be with them as their God. He will wipe away every tear from their eyes, and death shall be no more, neither shall there be mourning, nor crying, nor pain anymore, for the former things have passed away." And he who was seated on the throne said, "Behold, I am making all things new." Also he said, "Write this down, for these words are trustworthy and true." (Revelation 21:3-5 ESV).
Though pain and tears and sorrow are inevitable on this side of eternity, we hold a great hope. Praying you and I can continually remember the hope-filled truths of who God is, and who we are (and will be) because of Christ. Let's hold fast to the Gospel.