We all find ourselves in desperate places, in need of a place to pour out our sorrow.
We all have hard days, hard seasons, and we've got to learn how to communicate with God even amidst those really, really hard places.
Perhaps, for you, it may feel easy.
Oftentimes I've found it hard when I'm struggling to know what to do with all this stuff that's going on inside of me, because of all the stuff that's going on outside of me.
Either way, we all have those hard places. Yet as believers, we have so much hope!
We can pour our hearts out to the God of universe with confidence that He will hear us.
Trust in Him at all times, O people. Pour out your heart before him. God is a refuge for us.

— Psalm 62:8
But, what does it actually mean to "pour out" our hearts to God?
I did some study on this word, "pour." It's actually "pour out" that goes back to the original Hebrew word. This word is more than just a pouring out — like if you picked up a pitcher and you poured out some water. It can certainly be used that way, but it can also be used the way that the psalmist David uses it here, where it means to express without restraint.
Any verbal processors out there? I am FOR SURE. Just ask my husband. And there are times, especially in the crazy busy seasons when it's been a while since I've been able to get together with a girlfriend over coffee, or connect with someone over phone, and chat with my husband about all the goings on of my heart. There are some nights where (finally!) we get a chance to talk and it's — oh my gosh, all the words — it's just word vomit. There's just so much to talk about.
So though that is helpful (especially for a verbal processor) to get words out of our hearts words out of our brains. This is not necessarily the same thing as pouring out our heart to God. It's more than just words.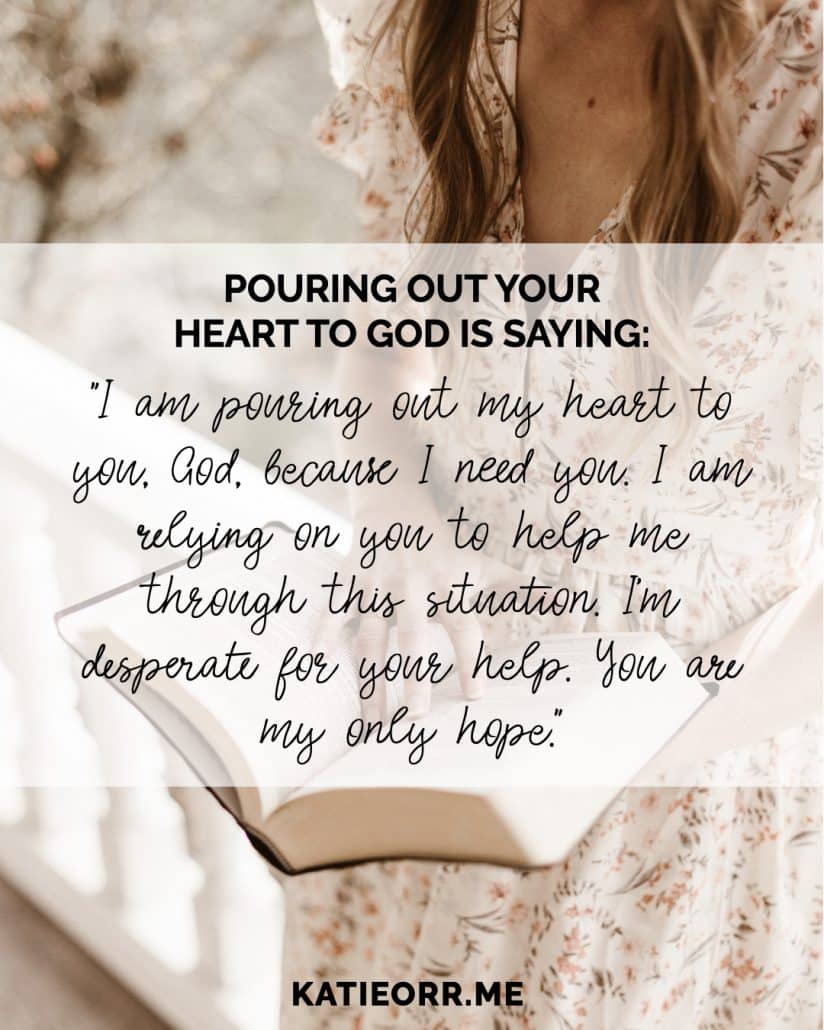 Pouring out our hearts to God is declaring our trust in Him.
There is an element of trust in the pouring out here in Psalm 62. It's about the action and the heart and motivation behind getting those words out.
As one Hebrew commentary says, pouring out "means to count on and regard an object to the point of reliance to a great degree." 1
Pouring out our heart to God, is saying, "I am pouring out my heart to you, God, because I need you. I am relying on you to help me through this situation. I'm desperate for your help. You are my only hope."
Pouring out our hearts is an act of trusting God.
---
Want to learn more about pouring out your heart to God?
I've created a new practical mini e-course designed to help you know what this actually looks like. For a limited time, it's free! Learn more here.