Well, the internet has been my nemesis this week. Many of you have noticed that my website has been DOWN (ugh) which also means I have had to scrap my plans (double-ugh for this inflexible Type-A) and veer toward plan-B. (Which didn't really exist, so it was less of a plan and more of flying-by-the-seat-of-my-pants. Ha!) My attempts at plan-B included a pixellated video with spotty sound, a hand-held super-shaky video, and yet another with the wrong orientation. When all was said and done, it felt like an ineffective way to communicate how I wanted! So, I've decided to start over and try this again. (Don't worry, all of those who entered to win on Facebook WILL still retain their entries!!)
Enter to Win an Early-Bird Gift Pack
WHAT: I've put together 5 amazing product-packs that I will ship out to continental US addresses. Details for each pack are below!
WHEN: Because of all my site issues, I'm extending the giveaway to go through the weekend. I will choose a winner for each pack on Monday, December 11.
WHY: To celebrate the upcoming release of my latest Bible study, Philippians, a 6-week FOCUSed15 Bible study, which will be released on January 22, 2018! Yay!
HOW TO ENTER: Preorder Philippians at your favorite retailer. Amazon | New Hope Publishers | Barnes and Noble | ChristianBook.com | Cokesbury

Comment below to let me know where you pre-ordered!! (Winners will be asked to send in a receipt before package is sent.)
For extra entries, you can follow the "plan-B" directions on Facebook and receive TONS of extra entries!
One comment below = 1 entry for each package.
What's in the Gift Packs?
A full description of each gift pack is below! Each pack also includes a coupon for 25% off one of my Everyday Bible studies. If you want to see and hear more about each packet, you can head to the crazy videos on Facebook. Just click the image of any one and it will take you where you need to go!
Links to items below may include affiliate links. At no extra cost to you, I receive a tiny portion of any purchases made. Thanks!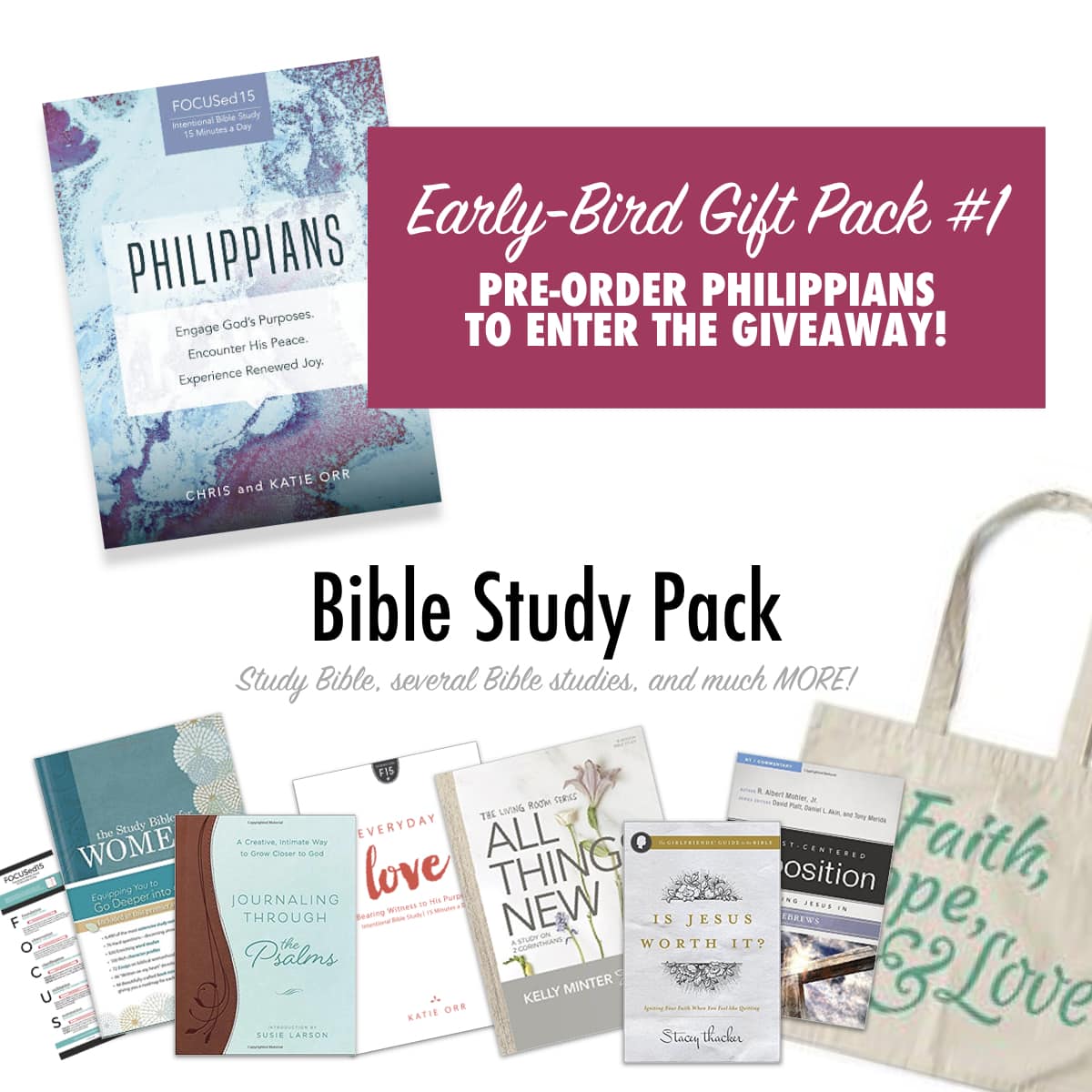 The Study Bible for Women
Journaling through the Psalms
Everyday Love
All Things New
Is Jesus Worth It?
Christ-Centered Exposition Commentary – Hebrews
WorldCrafts fair trade bag
Everyday Love
Kingdom Woman 
Fiercehearted
The 2018 Prayer Journal
All Things New 
Walk it Out 
Anchored Press 2018 Devotional Planner

WorldCrafts fair trade
Fresh Hope Journal
Everyday Hope
The Story of God's Love for You
Hidden Scripture Memory Journal
Captive Cards (not pictured)
Anchor of Hope (not pictured)

Mom Set Free
A Moment to Breathe Devotional
Hope for the Weary Mom
Gospel Centered Mom
Praying for Girls
Fresh Start Journal
Prayer Sticky Notes (not pictured)
no.41 Apron (not pictured)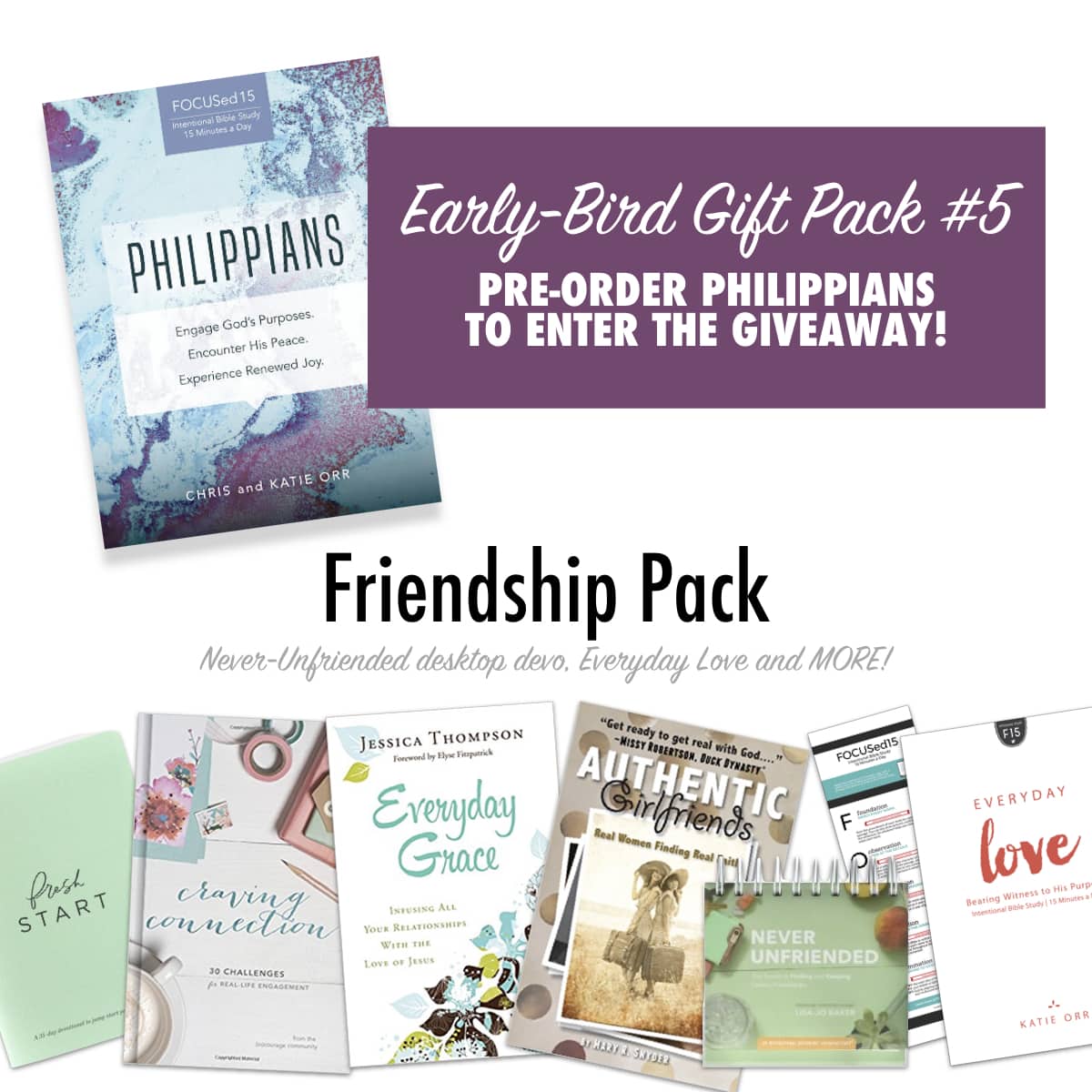 Fresh Start Journal
Craving Connection
Everyday Grace
Authentic Girlfriends
Never Unfriended Perpetual Calendar
Everyday Love –
Notecard Set (not pictured)
I'm working on bringing you several fun (and FREE!) digital goodies as a thank you for all who pre-order Philippians. More details are coming soon, but you can let me know now that you pre-ordered and I'll send them to you as soon as they are ready.
THANK YOU For your support. It means so much to me!!