Well, I did it! I ran my first 5K this weekend.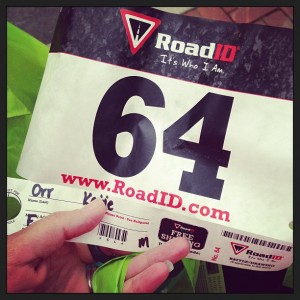 It was fun and difficult, but I would totally do it again.
I was really nervous the night before. Mainly, because I have been training since April, using the C25K app and was going to feel like I big idiot if it was all for nothing. I had visions of me not being able to make it through.
It's funny how the unknown can play with my mind.
I ran the first mile without stopping, then I took the hills with fast-paced walking as they came along. My husband ran the race as well but we agreed ahead of time to not stick together. As I was turning one of the last corners, I saw him jogging away from the finish line toward me. He finished the race, grabbed a bottle of water for me, and ran to meet me with it.
Then he made me sprint to the end.
I finished my first 5K at 34:44, which I am incredibly proud of. I know there are some of you out there who can finish it under 20…but this is coming from someone who could barely run a mile without stopping (or just about passing out) not too long ago.
Looking forward to our next race!
Are you a runner? A walker? How do you squeeze intentional movement into your schedule?