Today I'm sharing the answer to one of the frequently asked questions I receive: "What is your favorite Bible?" Though I have many Bibles on my shelf, the one I consistently recommend is the ESV Study Bible.
(Affiliate links present. If you make a purchase through my links, I receive a small portion of your purchase at no extra cost to you.)
The Best Study Bible
I've used the ESV Study Bible in various ways throughout the years. The ESV (stands for English Standard Version) is the translation I love to study from the most because it is more of a "word-for-word" translation than most others, which makes it a great Bible to study from. The ESV is also my preferred version for Scripture memory, mainly because it is most familiar to me.
I have a large well-loved copy of this pink and brown ESV Study Bible, which I happily lugged around with me to and from home, church, and Bible study group for years. The study notes alongside all of the resources within is a treasure trove of information—especially for the beginner to Bible study.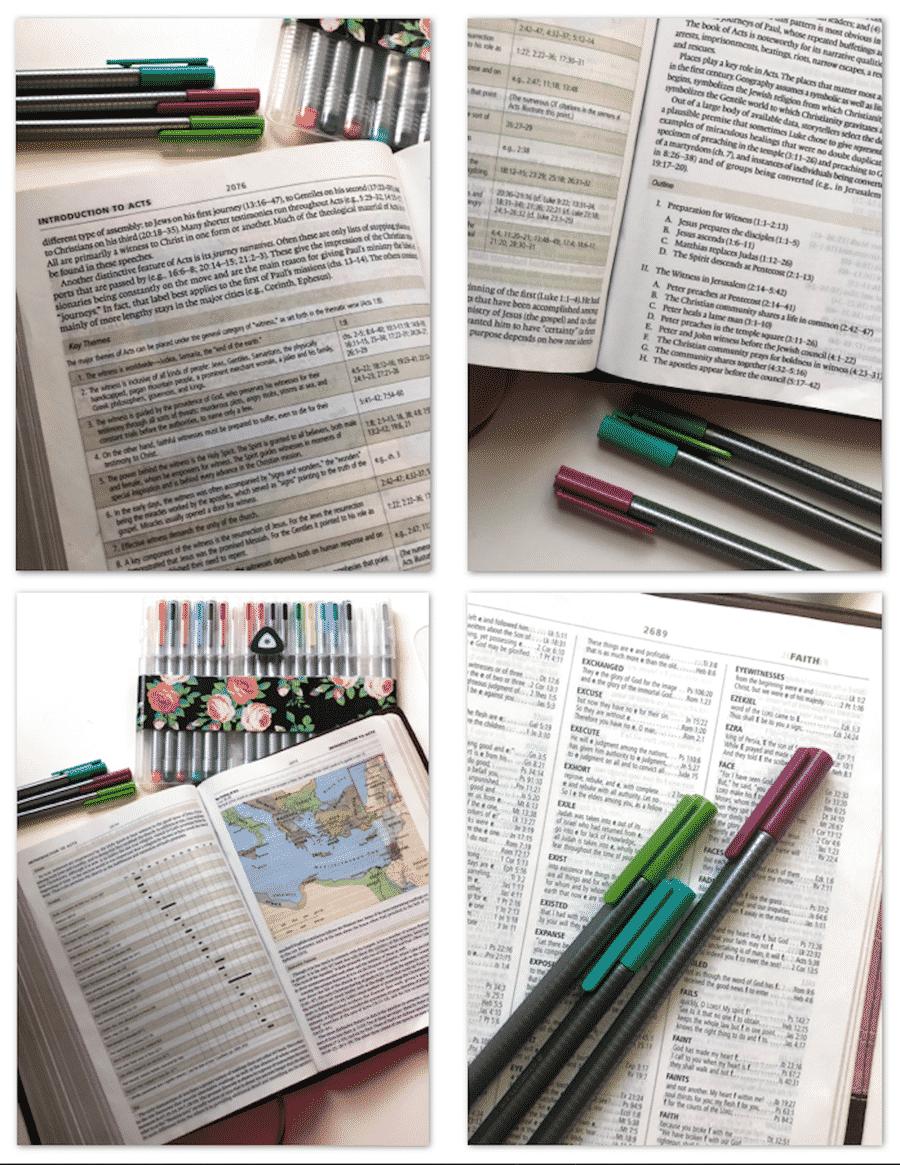 Nowadays this copy collects dust on my shelf because I have learned how to access all the ESV Study Bible goodness on-the-go through the free ESV Bible app.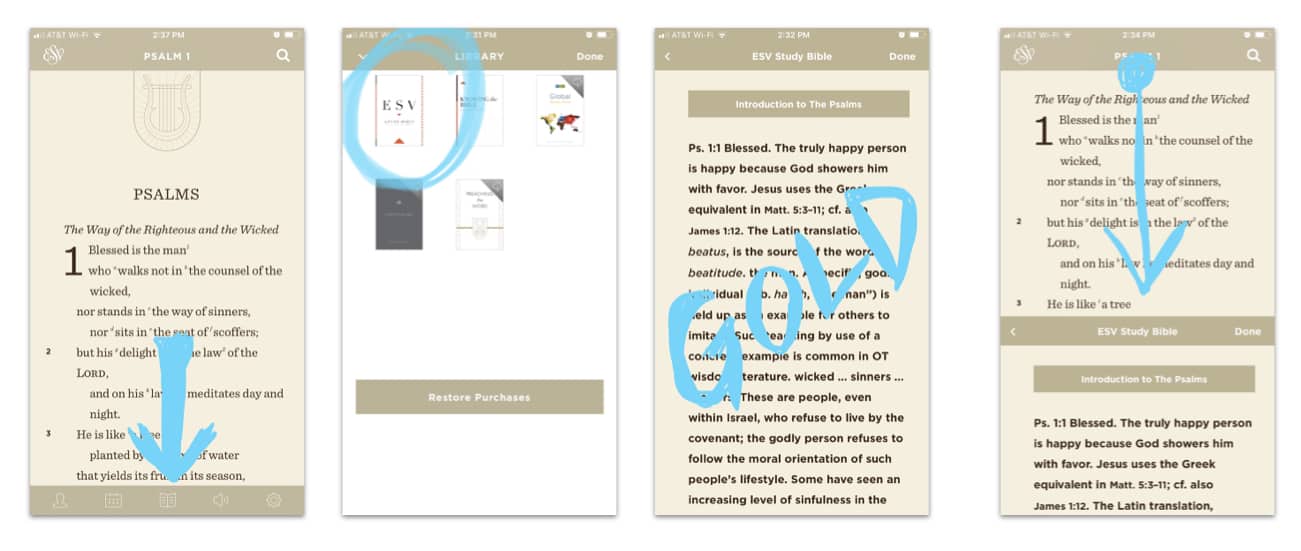 It is AMAZING!! This is one of the biggest reasons why I love the ESV Study Bible so much. There are other study Bibles just as solid as this one, but (as far as I am aware of) this is the only one who boasts this incredible feature. When I purchased mine, it included a code for a free app version. (I don't think they do that any more, but you can purchase the app version of the ESV Study Bible through the app.) I can access the same study notes, charts, maps, and all the other resources included in the ESV Study Bible at the tap of a button on my phone. I typically consult it multiple times a week, if not daily. It is super-convenient having all these Bible study charts, maps, notes, and book information with me at all times.
My Favorite Pens for Bible Study
Alongside the "favorite Bible" question, I get a bunch of questions about the pens I use! Though not necessary, I think it is great to personalize our Bible study time. This is a time to enjoy, and I enjoy color (plus, I am a very visual learner!) so some nice colorful pens are a must for me. 
My all-time favorite pens are Staedtler Pens. I have several sets of the Triplus Fineliner in the plastic case (one for home, one for my church bag) and one in a roll case that they no longer sell. As you can tell, I don't like to be stuck without my pens!
Here's what I love about these Staedtler Triplus Fineliner pens:
They don't bleed in my Bibles unless I write over and over again in one spot. (NOTE: If you have super-thin pages, just about everything is going to bleed)
They are very resistant to drying out. (I used to love Flair pens … until they stopped working due to drying out! My Staedtler Triplus Fineliner have lasted for YEARS.)
The case converts into an easel that props up the pens for easy access.
They are fine point at 0.3mm, which is small enough to be able to take lots of notes in my Bible.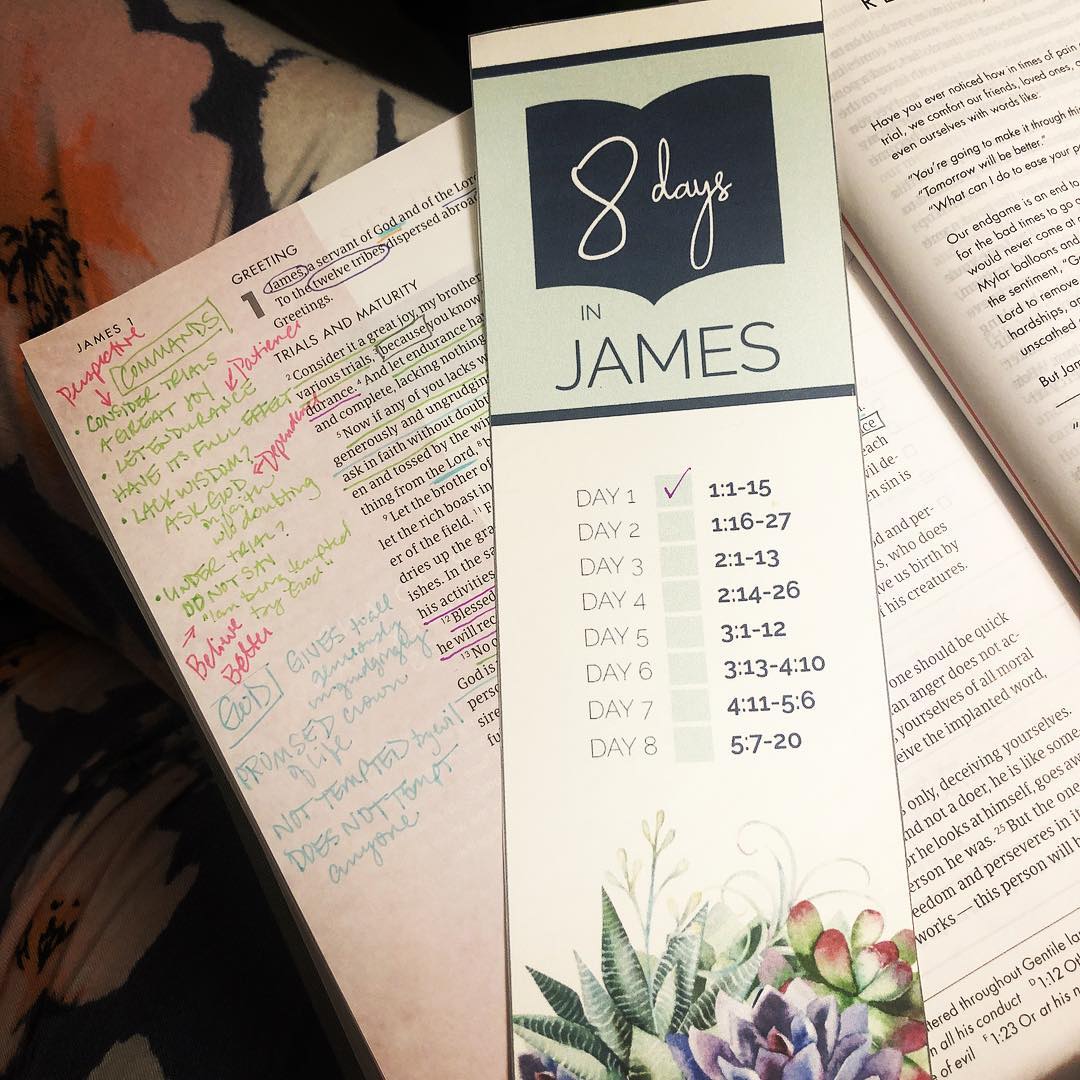 The only problem I've had with these pens is actually with the case … it kept popping open while in the easel position. I grabbed some gorgeous floral duck tape to keep it shut. Problem solved and my case was further beautified!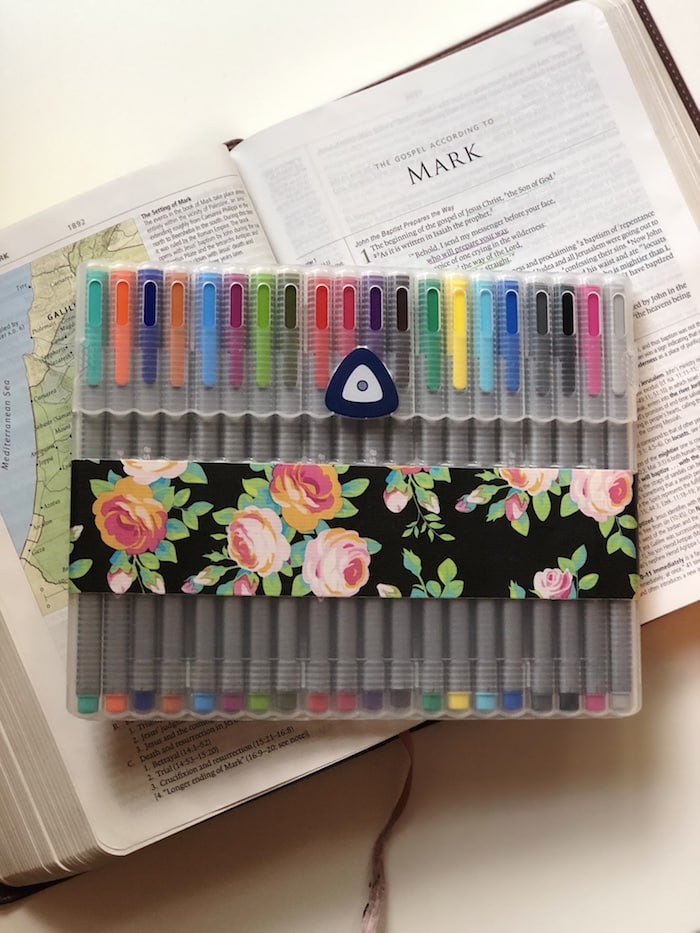 Enjoy!