Today's post is from my dear friend, Taylor. We served with Cru together in Atlanta for several years. She and her husband, Josh are still on staff with Cru and live in Bosnia, bringing the gospel to college students in Sarajevo!
Taylor shares her heart with us today…
—————————————————-
"Did we make a wrong choice?" The thought rushed through my mind like a waterfall. I looked out the window of our rental car at the rugged Bosnian countryside. Three weeks after moving from the States and the honeymoon period was over. I remember the tears streaming down my cheeks.
We were heading to Croatia for a conference. Our two children—ages 3 and 2—were in the back seat. My homesickness was flaring up again. I was thinking of all the things my children would miss out on: homeschool groups, children's museums, church events, grandparents (and I would be lying to say I didn't miss my places too, like Target and Starbucks!). Would it be worth it to follow God's calling to live in Sarajevo, working with university students?
During that long car ride, I clearly remember Nichole Nordeman singing You Are Good through the car stereo:
With every breath I take in
I'll tell You I'm grateful again
'Cause its more than enough
Just to know I am loved
And You are good
So how can I thank You
What can I bring
What can these poor hands
Lay at the feet of a King
I'll sing You a love song
It's all that I have
To tell You I'm grateful
For holding my life in Your Hands
With tears I sang over and over again: "You are Good. I am grateful that You keep me and You love me…and that is enough."
That is a choice I make frequently, if not daily, living here. There is immense joy in God's plan. I would not trade what we have gained these past three years for anything. But I still miss what we left behind.
You don't have to make an international move to experience these same feelings. A move across town, a career change, a church transition; these all come with joy and sacrifice. Even three years after that lonely car ride, the dark questions have not completely disappeared.
But there is one thing I have learned (and keep learning): He keeps us wherever we go. And he has used a story from Bosnia's past to help me remember that truth.
Meeting Miss Irby
It is the story of a wealthy woman who left everything she had in England to serve the beautiful women of Bosnia 150 years ago. With her own funds, she started a school and orphanage for girls. She saved thousands of refugees from starvation during a brutal war and became a national hero. I think of her every time I leave the mall in Sarajevo, where a street bears her name: "Mis Irbina Ulica", Miss Irby's Street.
This woman was my husband's distant cousin. We discovered her story just a few short months before moving here. When I'm having dark moments, I take a walk to Miss Irby's Street, not too far from my house. I imagine the school that stood there. I imagine the girls who received an otherwise impossible education. I think of the generations of people who would never have seen life if it weren't for her sacrifices.
After living here for less than a year, my husband felt another calling: Miss Irby's story needed to be heard. He was led to write a book about her life to be released in one year's time: the 100th anniversary of her death. That next year was incredibly taxing. Josh dedicated several hours a day to writing, we experienced some spiritual warfare including a miscarriage. However, during those dark times, one question kept reappearing in my mind: Why would God move us to the same place as a distant relative, doing similar work, if it weren't a part of his plan?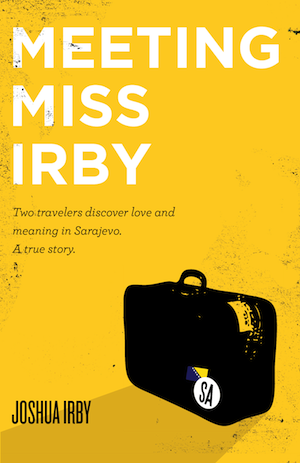 We would like to share this story with you. It is an inspiring story of hope, determination and the beauty of God's plan unfolding.
Taylor Irby lives in Sarajevo, Bosnia-Herzegovina with her husband Josh and their three children, Israel (6), Elijah (4) and Adeline (10 months).
affiliate links present