I am a science geek at heart. I spend my hours at work analyzing blood (and other fun body fluids), looking through a microscope, and reporting results.
And it's fun.
In school, I despised English class. I HATED writing papers. I paid little attention to grammar lessons.
My worst grade at Auburn University was first semester English 101 (I got a B-…I'm a nerd, remember?) I DREADED sitting down to write an essay.
To this day, I struggle with where to put a comma, and whether or not to start a sentence with so, and, or but. Each post I write is riddled with fear that the grammar police are going to come and shut down my blog.
OK, so maybe I am being a bit dramatic, but I have felt incredibly hindered in my writing. I have more than 10 un-published posts sitting in my drafts, for fear of them not making sense, and of others critiques.
The most practical thing I came away with last weekend was being able to walk in confidence in who I am as a blogger-as a writer.
I finally feel able to call myself a writer.
I have grown to truly enjoy blogging. In my crazy life of three small children, dirty dishes, and nasty floors; my blogs are my little spaces which I can pour out my heart, create order, and use my passions and giftings in a way I just can't do at home right now.
It is place where I can share my heart and my life, in hopes that God will somehow use it all for His glory.
I want to take my writing deeper. I haven't been able to really write about the things I want to share with you all. Part of me is scared. Scared I won't communicate correctly. Scared I will be misunderstood. Scared I will fail.
I want to throw away my reluctance and just write.
Write my heart, my life, my sorrows and joys.
I am no longer someone who just happens to have a blog. I am no longer a reluctant communicator.
I am a writer.
——
An idea was birthed thousands of miles in the sky, as my dear friend Stacey and I headed home from Relevant. As we were processing all we had learned over those three full days, I felt this settledness and excitement to finally be able to say "I am a writer".
We both felt we were leaving feeling enabled to be the writer God created us to be, and we thought it would be fun to put out a challenge for others to join us.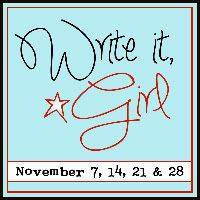 Write It, Girl.
Whatever is on your heart, whatever is going on in your life. Write it, girl.
I am a writer; make that declaration. Regardless of your background, your giftings, your grammar. Write it, girl.
Write with confidence in your space; that little corner of the web He's given you. Ask Him to give you a vision for what He wants with your words and write it, girl.
Come and share your words, bring it to this safe place where you can write what is on your heart, and encourage others in their writing, as well.
Write it, Girl!
Have you written something recently you want to share? Come and link it up!
Have a word on your heart? Go. Now. Write it, girl, then come back here and let us have it!
We will have a chance for you to share what you've written every Monday in November, and you can link up your posts here or over at Stacey's. All we ask is you read the post before yours and give a word of encouragement!