What do a can of beans, a globe and the internet have in common?
World Vision Night.
We have tried to be intentional in teaching our kids as well as reminding our own hearts about the needs around the world. Without a regular reminder we drift and get caught up in materialism and forgetfulness. Urgency is lost. Compassion is not seeing a need a feeling sorry. Compassion is a verb, something we do.
A Can of Beans
Once a month our family eats rice and beans for dinner. It costs us about a dollar to feed everyone and we use what we would have spent on eating out to help relieve hunger around the world. While we eat, we talk about why we are only eating rice and beans and how inexpensive the meal is and remind the kids that much of the world lives off of $2 a day!
A Globe
We also talk about and our sponsored children, find their countries on the globe and pray for them. Compassion International does a great job at keeping us updated with our sponsored children so we usually have something to read to the kids, with pictures of our sponsored children's country and specific prayer requests for that area.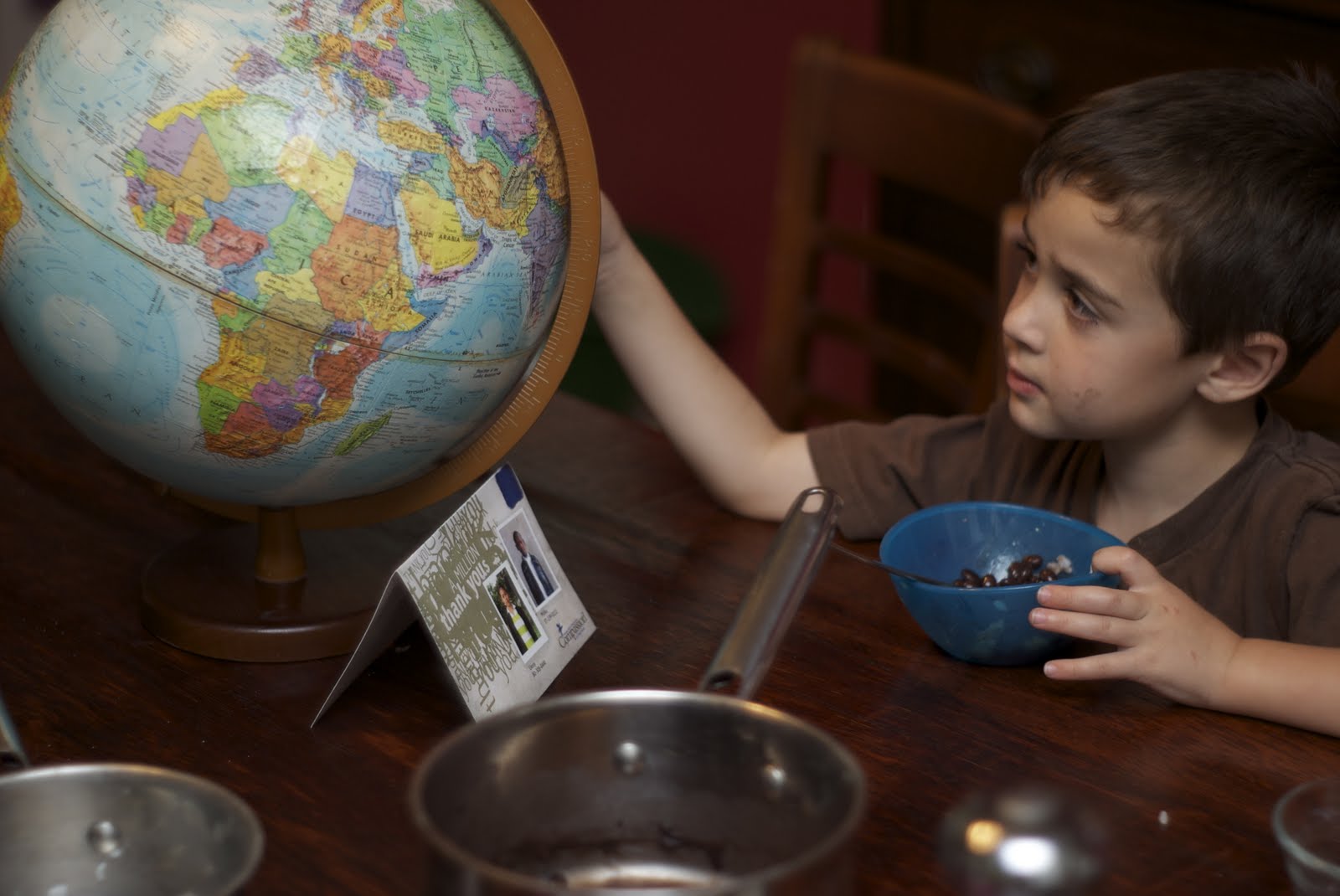 The Internet
There are loads of great online resources to help build a compassion for the world in the hearts of our families. Here are a few that we have used:
Downloadable Resources from Compassion. They have a "Children and Families" section with coloring pages, activities and other great ideas to connect with your sponsored child. (What? You don't have a sponsored child? 
Go now and get one!
)
Operation World Prayer Videos
. These are awesome. They are short videos of the country which you can listen to and pray along with. A great way to show our kids the world, as well as teach them how to pray for specific requests. All of the Operation World site is great!
Quest for Compassion
. This is a kids' website where they can explore the world and learn about the culture and needs of different areas. Last week Kenneth visited Bangladesh!
World Vision's Giving Catalog. Another great visual for our kids to see why we are "sacrificing" a Happy Meal. Plus, they get excited about buying ducks!

Getting There by the Southern Baptist IMB. An interactive map where you can read about a pray for unreached people groups. This is something I would like to add later on. Chris and I have talked about "adopting" an unreached people group as a family. Peoples that we could pray for, give to, and maybe one day go to!
What ideas do you have for a Family World Vision Night? What online resources would you add to the list?