I'm 35 today. To celebrate, I wanted to share with you one of my favorite things. (Cue the Sound of Music soundtrack!)
[earnist_link ref="stitch-fix-reviews" id="18876″]Stitch Fix Review[/earnist_link]
Stitch-wha, you ask?
[earnist_link ref="stitch-fix-reviews" id="18876″]Stitch Fix[/earnist_link] is an online service which is like your own personal stylist. When you sign up you fill out a detailed style profile to let them know your sizes, preferences, colors or patterns you want to avoid, and styles you might like to branch out into.
Your stylists chooses 5 items for you and ships them in your "fix".
Once you receive your fix you have 3 business days to decide what you want to keep. (I've received 3 fixes over the past 5 months and have only returned 2 items which I didn't like!) If you keep all 5 items, you get 25% off of your order.
10 Reasons why I love [earnist_link ref="stitch-fix-reviews" id="18876″]Stitch Fix Review[/earnist_link]
It's easy. The older I get the less I like to shop for clothes. Going to the mall is a hassle, ESPECIALLY with the kids. (And if I have an afternoon alone without the kids, the mall is not my first choice of places I'd like to be!)
It's convenient. The "fix" comes to me. I keep what I want, and anything that didn't work out (which hasn't been much for me!) I put in a pre-paid mailer and stick it in my mailbox. Easy-peasy.
I can dress with confidence. I've attempted to "branch out" through purchasing a few trendy items on my own, but I just don't feel as if I can really pull them off. There is great confidence in know that someone thinks this 35 year old can pull off whatever they send my way.
Great way to infuse color and patterns. I have a tendency to purchase plain, solid color items, under the notion that "this will go with anything!" From my fun kelly green bird dress, to my comfy coral-colored blazer, on over to my cerulean blue button down, Stitch Fix has gotten me out of my black and white-rut.
It's simple. I love that I don't have to try to figure out what's in style. My stylist (her name is Alexandra, by the way!) does that for me, keeping in mind the preferences I gave in my style profile. And I must say she has done a fabulous job.
It is a HUGE timesaver. I can schedule a fix in a matter of moments. If I have a special event coming up, I can just schedule a fix the week before, instead of trekking to the mall (which for me is 45 minutes away) to scour the clearance racks for hours.
They carry quality items. Again, maybe I'm just getting old, but I'm over the majority of my wardrobe being from Target and Old Navy. I've found that the clothes just don't last — sometimes not even through one season. Boo! And I often find that the items I get from Marshals, Ross, etc. that the seams are not quite straight, or there are other small "variations" that I don't notice at first, but over time become an issue.
I can try on the items with my own clothes. This is one of my favorite things about [earnist_link ref="stitch-fix-reviews" id="18876″]Stitch Fix[/earnist_link]. I have the five items in my room, to try on with all of my own clothes. I can see how many outfits I can get out of them … and no standing in the return line!
They send cards with each item to give you ideas on how to wear and accessorize each item. Another helpful tool to get me out of my style-box.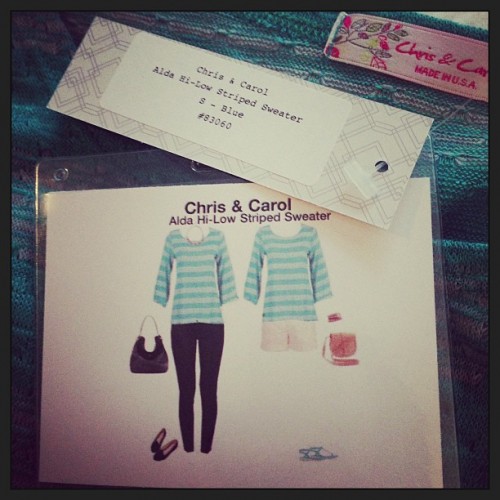 Don't have to worry about kids looking under the stalls at other women or announcing to the world what color underwear I'm wearing. Enough said.
So, in case you were scouring the internet for the perfect birthday present for me (just kidding … kinda) now you know!
If you want to try Stitch Fix out for yourself, [earnist_link ref="stitch-fix-reviews" id="18876″]you can sign up here[/earnist_link]. And if you find that you too love Stitch Fix, you can tell your friends about it and get a referral credit when they receive their first fix! (Yes, that means that if YOU sign up then I get a referral credit to fund my love for Stitch Fix!)
Happy birthday to me!