I have been crucified with Christ. It is no longer I who live, but Christ who lives in me. And the life I now live in the flesh I live by faith in the Son of God, who loved me and gave himself for me.  I do not nullify the grace of God, for if righteousness were through the law, then Christ died for no purpose. Galatians 2:20-21

Why we need to study the book of Galatians
The book of Galatians is filled with truths about the gospel—the good news of what Jesus has done to redeem us so that we can enjoy His presence for eternity. At first glance, it may seem that talk of circumcision and the Law is not applicable to us, but the motivations and mistakes hidden behind the traps the churches in Galatia found themselves in, also abound today.
Here is an excerpt from the Galatians Study Pack, where we study Galatians together. I have daily coaching videos to help you start out on the right foot and understand the cultural background behind the words we see on the page. Indeed, the book of Galatians holds much for each of us today.
One huge key to living a Christian life
So if you and I are trying to become right by any other means than depending on Christ righteousness on our behalf, we are denying the crucifixion of Christ. We are saying, "Jesus what you did on the cross was pretty awesome but I'll take it from here because I gotta get I gotta clean myself up."
We gotta quit this notion that I gotta clean myself up before I can come to Christ. We're never ever ever gonna be able to clean ourselves up enough to come to Christ. Ever.
We come to Christ because we are broken.
We come to Christ because we are dirty.
We come to Christ because we are unrighteous.
And what does He gives us? He gives us grace. He gives us mercy and he gives us our very righteousness.
Go look up 2 Corinthians 5:20. It says that, "He made Him—Jesus—who knew no sin to be sin for us so that we might become the righteousness of Christ."
He takes on our sins and then gives us His perfect righteousness. That is the only way to true justification. That is the only way to true righteousness. It is a gift that is given to us. It is not earned.
Then, when we really get that we have been given the righteousness of Christ, it is amazing motivation to worship and honor the sacrifice of Christ with my life.
Because God has made me righteous, I choose to live a righteous life.
Because God has made me perfect, I choose to walk in holiness.
I mess it up all the time but when I mess up, I have to turn right back and keep my eyes on Jesus and remember that he is given me righteousness and then it fuels me right again to continue in righteous living.
See what's going on here is that we have this internal, inward foundational truths about us as Christians. Jesus has made me righteous. Jesus has made you righteous. If you have trusted him for salvation, if you trusted him to take care of your sin problem, he's done it. He's taking care of your sin problem. Your sin has been paid for and now you have His righteousness. That is true of who you are at the deepest part of who you are. You are righteous.
And so our work here on earth is sanctification. We get to join in what God is doing to make those inward truths become external reality so that over time I look more and more like Jesus. That is the working out of our salvation.
We already have salvation. It is within us. We have been given everything we need to live a godly life. We get to spend
the rest of our life working those truths out since they become more and more and more true of our everyday living.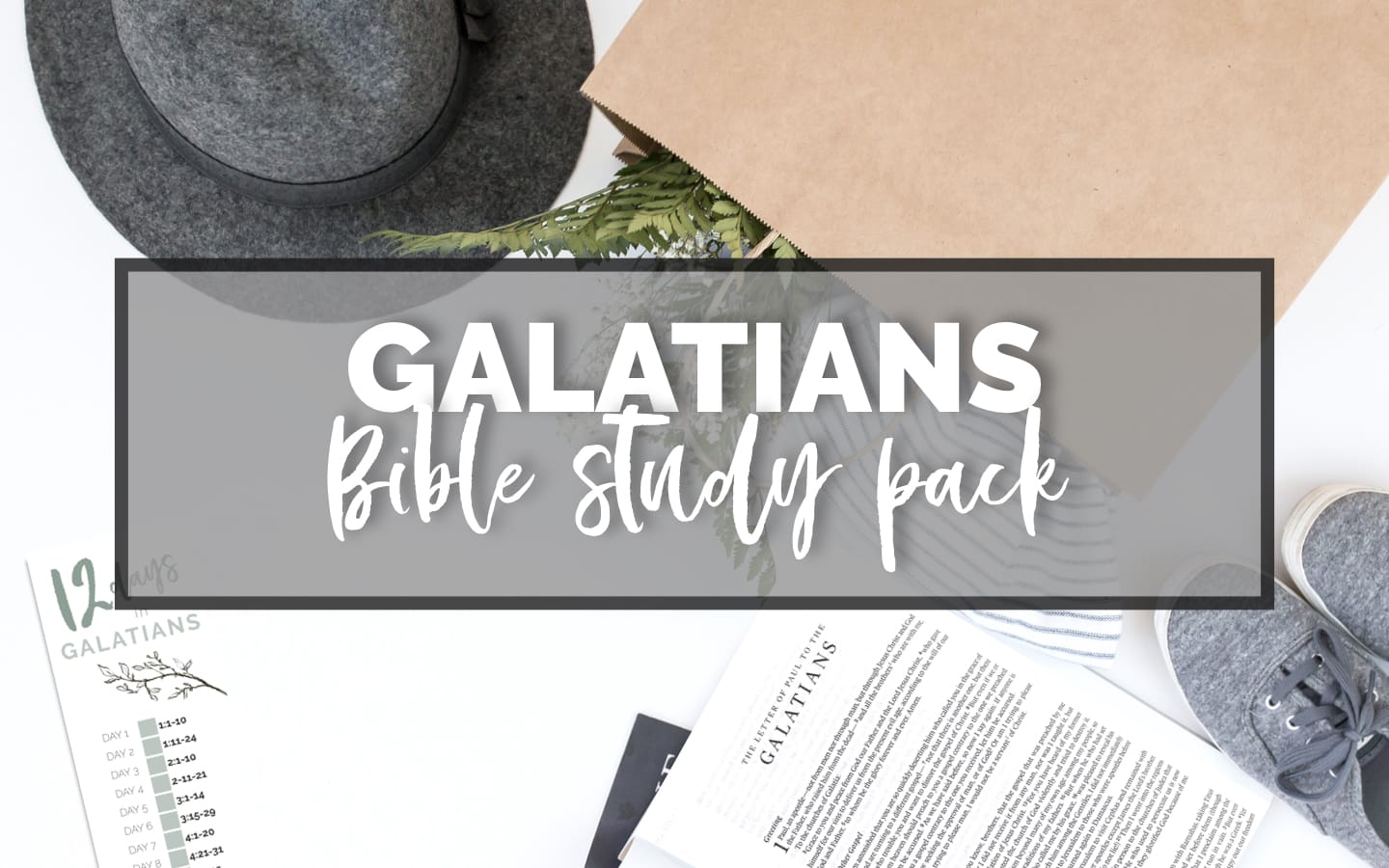 You can access the rest of this teaching video and jump into the Galatians Bible study pack. Through this customizable Bible study through Galatians, you will better understand the gospel and the freedom we have in Christ. Whether you are brand new to Bible study, or a seasoned veteran, this Bible study pack will help you take your next step toward better Bible study—even if you have a busy schedule. All from the comfort of your own home!