Are you hungry for the Word of God? Do you feel as if you don't have the time nor the tools to dig into the Bible the way you want to? Do you think deep study of Scripture is reserved for the pastor, the seminary student, or the uber-spiritual?
I believe even the busiest of women can train her eye to discover the life-changing truths held in scripture, in only 15 minutes a day.
In FOCUSed15, I'll show you how to do just that. We'll look at scripture through a different lens each day, use tools already at our fingertips, with methods proven through history …
… all in fifteen minutes day.
Immersed, Experiencing the patience, provision, and presence of God is a 6-week inductive Bible study of Jonah. Verse-by-verse you'll study this small yet powerful book while learning study tools to guide your future studies.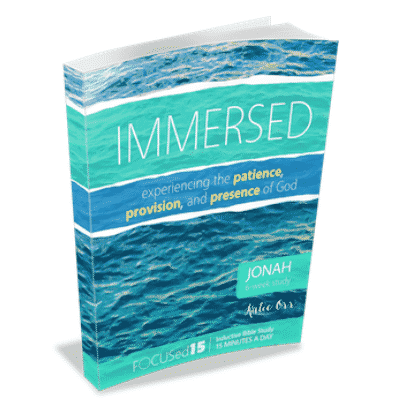 Immersed - Focused15 - Jonah
A 6-week PDF Bible study on the book of Jonah. Available for immediate download.
(Affiliate link)