Hope you will enjoy another installment of Miscellany Monday!
1. I am heading to my first blogging conference this week!

Wednesday night I will be heading to Orlando, to stay with Stacey. We will catch an early flight, and along with Steph we will be on our way to Pennsylvania! To say I am excited is a great understatement.
2. I've never been to Pennsylvania.
And I am a complete wimp when it comes to being cold…so we'll see how this goes!
3. I am REALLY looking forward to meeting so many of my blogging friends and heroes.
Especially this blogging friend. It is just a bit crazy that we have written a book together, yet never met.
4. 21 verses have been donated for the Vidunda people!
We've been giving $2 of every copy of Savoring Living Water sold, to help bring the New Testament to the Vidunda people in Tanzania, Africa. You can get your own copy here, and if you already have a copy and you want to do more, you can give directly to the fund here.
5. I have about 10 different posts started, but just can't seem to finish any of them.
There is so much on my heart that I want to share about, but feel as if my words are completely inadequate in communicating what is in my heart. It is hard to really share my heart with ten minutes here and there to compose my thoughts. I've been battling the crud and have been busy with life, so my writing time has been cut short. I know that it will all come in the Lord's timing!
6. I LOVE getting to review for Crossway!
I am in the middle of Jesus + Nothing = Everything, and I am enjoying it tremendously. Look for a review soon!
We are also enjoying this great children's book…
6. There is a new Hiding His Word challenge on the horizon.
This time we are memorizing Romans 8, and we are wanting you all to get involved in preparing the resources. I'll be taking it at a 2-3 verse a week pace and would love for you to jump in with me. Check it out!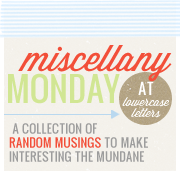 https://katieorr.me/wp-content/uploads/2018/07/Katie-Orr-Bible-Teacher.png
0
0
Katie
https://katieorr.me/wp-content/uploads/2018/07/Katie-Orr-Bible-Teacher.png
Katie
2011-10-24 00:27:22
2015-01-09 16:44:10
Miscellany Monday