I have been on a journey towards Hiding Philippians in My Heart. It has been amazing. I memorized the book! It took me 21 weeks and much time and devotion toward the goal of immersing myself in His Word. I am in the maintaining stage now and it has been suggested that you recite every day for 100 days before moving on to another passage. I try to recite it whenever I can. In the shower, the car. Sometimes I recite it to my kids as I am putting them in to bed.
Each time I have prepared to video tape it, I start to second guess myself. It is incredibly helpful for me to vlog it, as it gives me a goal to work towards. And if I can recite it all together then I know that I know it. However, I worry. I worry that others will think I am showing off. I worry that others will be annoyed by it. A few of us from the #HideHisWord stream had a little Twitter chat about it last week, and I know that I am not the only one who feels this way. Even a few weeks ago, as I prepared to recite the book to my small group Bible study (of which we have been studying Philippians) I still felt funny reciting even in this safe group of ladies who I know love me.
Brothers, join in imitating me, and keep your eyes on those who walk according to the example you have in us. Philippians 3:17
Paul penned these words, right after he spent much time explaining how he had given up self-righteousness and puts no confidence in the flesh. His focus was Christ. Yet, he told these Philippians to imitate him.
As I think back to the times I have seen others recite memory from scripture, whether it be one verse or an entire book, I am always encouraged. It has always made me want to memorize scripture-to imitate those who have memorized the Bible. It is God's word! Reciting what we have hid in our hearts is proclaiming the Word of God! He will use it.
It is with this in mind, that God would be glorified through the proclaiming of His Word and that you would be encouraged to do the same, do I share this with you.
Philippians: Hidden in My Heart
You can find out more about the
Hiding His Word
challenge at 
Do Not Depart
.
Linking up with the Hiding His Word Vlog linky: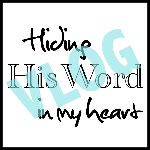 https://katieorr.me/wp-content/uploads/2011/05/door-rustic.jpg
750
1125
Katie
https://katieorr.me/wp-content/uploads/2018/07/Katie-Orr-Bible-Teacher.png
Katie
2011-05-14 06:55:47
2016-12-24 12:31:14
Memorizing Philippians