This was the phrase the Doctor used today.
On Tuesday, my sweet Michael got a few bug bites on his cheek. Yesterday he woke up and the area all around his right eye was swollen. By the time he woke up from his afternoon nap his eye was almost swollen shut and had turned red. I knew I needed to take him in. This was more than just a bug bite.
The Doctor thought so too. He put Michael on some antihistamines and strong antibiotics, and said he wanted to see him every day until this is cleared up. He even said he might need to be hospitalized if it didn't get better by the weekend. He is treating it as if it is an MRSA infection, which can get bad very quickly.

Today the Doctor said it looks better, and thinks that the antibiotics are doing their job. He said "we've had a crisis averted here." Through bringing him in early and treating it aggressively we have avoided something which could have been bad, bad, bad.
Since February, I've been practicing Eucharisteo. Giving thanks. Almost daily, I have been numbering the things, small and large, that I am thankful for.
I am incredibly thankful today.
#388 God-given mommy-intuition
#389 The sweet ladies at the Elementary School who got Kenneth to the school office for me, so we could get to the Doctor's quick
#390 A cautious Doctor who has worked aggressively after this
#391 A Doctor who doesn't second-guess me or belittle me
#392 Sweet snuggles from a tired baby
#393 Michael doesn't seem to be in much pain or discomfort
#394 My hubbie who came home early for lunch, so I could go back to the Dr. without Anna. (She and waiting in confined spaces for long periods of time don't go well together.)
#395 Antibiotics
#396 Medical Insurance
#397 My God cares about my every worry-I Peter 5:7
#398 I can present my requests to God-Phil 4:6
#399 The peace of God which surpasses all understanding guards my heart and mind-Phil 4:7
#400 Praying family and friends
#401 These words: "crisis averted"
I will be linking this up on Monday…I just couldn't wait to post this.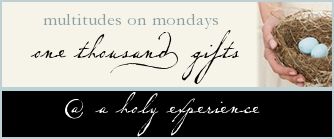 https://katieorr.me/wp-content/uploads/2018/07/Katie-Orr-Bible-Teacher.png
0
0
Katie
https://katieorr.me/wp-content/uploads/2018/07/Katie-Orr-Bible-Teacher.png
Katie
2011-05-12 14:21:40
2015-01-09 16:45:05
"Crisis Averted"