[av_heading heading='Enjoy a Better Bible Study Experience' tag='h1′ link_apply=" link='manually,http://' link_target=" style='blockquote modern-quote modern-centered' size='40' subheading_active='subheading_below' subheading_size='20' margin=" padding='10' color=" custom_font=" custom_class=" admin_preview_bg=" av-desktop-hide=" av-medium-hide=" av-small-hide=" av-mini-hide=" av-medium-font-size-title=" av-small-font-size-title=" av-mini-font-size-title=" av-medium-font-size=" av-small-font-size=" av-mini-font-size="]
Say goodbye to inconsistency and confusion.
[/av_heading]
[av_textblock size=" font_color=" color=" av-medium-font-size=" av-small-font-size=" av-mini-font-size=" av_uid='av-jsdw4deg' admin_preview_bg="]


[/av_textblock]
[av_heading heading='You can be a consistent, confident Bible Girl' tag='h1′ link_apply=" link='manually,http://' link_target=" style='blockquote modern-quote modern-centered' size='40' subheading_active='subheading_below' subheading_size='20' margin=" padding='10' color=" custom_font=" custom_class=" admin_preview_bg=" av-desktop-hide=" av-medium-hide=" av-small-hide=" av-mini-hide=" av-medium-font-size-title=" av-small-font-size-title=" av-mini-font-size-title=" av-medium-font-size=" av-small-font-size=" av-mini-font-size="][/av_heading]
[av_iconlist position='left' iconlist_styling=" animation=" custom_title_size=" custom_content_size=" font_color=" custom_title=" custom_content=" color='custom' custom_bg='#5f92b0′ custom_font=" custom_border=" av-medium-font-size-title=" av-small-font-size-title=" av-mini-font-size-title=" av-medium-font-size=" av-small-font-size=" av-mini-font-size=" av_uid='av-jsdw7zle' admin_preview_bg="]
[av_iconlist_item title='Even if you're intimidated at the thought of studying the Bible' link=" linktarget=" linkelement=" icon='ue836′ font='entypo-fontello' av_uid='av-1gwwtg3′]
Better Bible study is not out of reach. It is not just for the "super-spiritual." YOU can learn a a few simple yet powerful ways to approach the Bible that will make a passage come to life.
[/av_iconlist_item]
[av_iconlist_item title='Even if your schedule is full' link=" linktarget=" linkelement=" icon='ue862′ font='entypo-fontello' av_uid='av-19u9q0j']
Life is full and often chaotic. Perhaps the thought of adding yet another thing on your list is overwhelming. Yet, it doesn't need to be. There is a simple way to make opening your Bible a part of your natural daily rhythm.
[/av_iconlist_item]
[av_iconlist_item title='Even if you are confused by what you read ' link=" linktarget=" linkelement=" icon='ue84e' font='entypo-fontello' av_uid='av-325mcz']
Many feel confused and discouraged when it comes to studying the Bible. If this has been your experience know that there is hope! You can develop confidence to open the Bible and understand what it is saying.
[/av_iconlist_item]
[/av_iconlist]
[av_section min_height=" min_height_px='500px' padding='default' shadow='no-border-styling' bottom_border='no-border-styling' bottom_border_diagonal_color='#333333′ bottom_border_diagonal_direction=" bottom_border_style=" custom_margin='0px' custom_margin_sync='true' custom_arrow_bg=" id=" color='main_color' background='bg_color' custom_bg=" background_gradient_color1=" background_gradient_color2=" background_gradient_direction='vertical' src='https://katieorr.me/wp-content/uploads/2020/05/open-bible-pink-mug-grayscale.jpeg' attachment='21777′ attachment_size='full' attach='scroll' position='center center' repeat='no-repeat' video=" video_ratio='16:9′ overlay_enable='aviaTBoverlay_enable' overlay_opacity='0.5′ overlay_color='#c8b083′ overlay_pattern=" overlay_custom_pattern=" av_element_hidden_in_editor='0′ av_uid='av-jsexqmb6′]
[av_textblock size='40' font_color='custom' color='#ffffff' av-medium-font-size=" av-small-font-size=" av-mini-font-size=" av_uid='av-jsdyzo9e' admin_preview_bg="]
The Challenge is Closed
Fill out the form below to be notified when it opens up next

[/av_textblock]

[av_one_full first min_height=" vertical_alignment=" space=" custom_margin=" margin='0px' row_boxshadow=" row_boxshadow_color=" row_boxshadow_width='10' link=" linktarget=" link_hover=" padding='0px' highlight=" highlight_size=" border=" border_color=" radius='0px' column_boxshadow=" column_boxshadow_color=" column_boxshadow_width='10' background='bg_color' background_color=" background_gradient_color1=" background_gradient_color2=" background_gradient_direction='vertical' src=" background_position='top left' background_repeat='no-repeat' animation=" mobile_breaking=" mobile_display=" av_uid='av-334xcmr']

[av_textblock size=" font_color=" color=" av-medium-font-size=" av-small-font-size=" av-mini-font-size=" av_uid='av-ka2mqt58′ admin_preview_bg="]


[/av_textblock]

[/av_one_full][av_hr class='invisible' height='50' shadow='no-shadow' position='center' custom_border='av-border-thin' custom_width='50px' custom_border_color=" custom_margin_top='30px' custom_margin_bottom='30px' icon_select='yes' custom_icon_color=" icon='ue808′ font='entypo-fontello' av_uid='av-jseyuv8v' admin_preview_bg="]

[/av_section][av_section min_height=" min_height_px='500px' padding='default' shadow='no-border-styling' bottom_border='no-border-styling' bottom_border_diagonal_color='#333333′ bottom_border_diagonal_direction=" bottom_border_style=" custom_margin='0px' custom_margin_sync='true' custom_arrow_bg=" id=" color='main_color' background='bg_color' custom_bg=" background_gradient_color1=" background_gradient_color2=" background_gradient_direction='vertical' src='https://katieorr.me/wp-content/uploads/2020/01/happiness-christian-book.jpeg' attachment='21103′ attachment_size='full' attach='scroll' position='top left' repeat='no-repeat' video=" video_ratio='16:9′ overlay_enable='aviaTBoverlay_enable' overlay_opacity='0.5′ overlay_color='#5f92b0′ overlay_pattern=" overlay_custom_pattern=" av_element_hidden_in_editor='0′ av_uid='av-jsezbrxd']
[av_two_fifth first min_height=" vertical_alignment=" space=" custom_margin=" margin='0px' row_boxshadow=" row_boxshadow_color=" row_boxshadow_width='10' link=" linktarget=" link_hover=" padding='0px' highlight=" highlight_size=" border=" border_color=" radius='0px' column_boxshadow=" column_boxshadow_color=" column_boxshadow_width='10' background='bg_color' background_color=" background_gradient_color1=" background_gradient_color2=" background_gradient_direction='vertical' src=" background_position='top left' background_repeat='no-repeat' animation=" mobile_breaking=" mobile_display=" av_uid='av-334xcmr']

[/av_two_fifth][av_three_fifth min_height=" vertical_alignment=" space=" custom_margin=" margin='0px' row_boxshadow=" row_boxshadow_color=" row_boxshadow_width='10' link=" linktarget=" link_hover=" padding='0px' highlight=" highlight_size=" border=" border_color=" radius='0px' column_boxshadow=" column_boxshadow_color=" column_boxshadow_width='10' background='bg_color' background_color=" background_gradient_color1=" background_gradient_color2=" background_gradient_direction='vertical' src=" background_position='top left' background_repeat='no-repeat' animation=" mobile_breaking=" mobile_display=" av_uid='av-334xcmr']

[av_textblock size=" font_color='custom' color='#ffffff' av-medium-font-size=" av-small-font-size=" av-mini-font-size=" av_uid='av-jsdw4xn7′ admin_preview_bg="]
Say Goodbye to Dead-Ends and Dread
Many experience confusion and frustration when it comes to Bible study.
I was a long-time member of this camp and I spent years feeling like a failure when it came to studying the Bible. I began to believe that there must be another stratosphere of Christians that I just wasn't cut out for.
Graciously, God brought me out of this cycle of cluelessness and frustration. He provided training and tools which opened up a new and exciting experience for me to open my Bible. Dead-ends and dread have been replaced with satisfaction and transformation through my time in God's Word.
[/av_textblock]
[/av_three_fifth]
[/av_section]
[av_textblock size=" font_color=" color=" av-medium-font-size=" av-small-font-size=" av-mini-font-size=" av_uid='av-jsdw4xn7′ admin_preview_bg="]
Say Hello to Depth and Delight
While it takes a lifetime to mine the depths of the Bible, there is much we can delight in immediately. Through a few small adjustments and several simple steps, you can start enjoying God's Word today.
I'd love to show you how.
The 5 Days to Better Bible Study Challenge will
Help you establish the habit of regularly open your Bible
Save you from wasting time with mindless wandering
Provide a way out of paralysis when it comes to understanding the Bible
Encourage you toward confidence through several simple ways to and boost your Bible reading
Launch you into studying a passage with one simple question
Bolster your ability to understand and apply Scripture to your life
[/av_textblock]

[av_one_full first min_height=" vertical_alignment=" space=" custom_margin=" margin='0px' row_boxshadow=" row_boxshadow_color=" row_boxshadow_width='10' link=" linktarget=" link_hover=" padding='0px' highlight=" highlight_size=" border=" border_color=" radius='0px' column_boxshadow=" column_boxshadow_color=" column_boxshadow_width='10' background='bg_color' background_color=" background_gradient_color1=" background_gradient_color2=" background_gradient_direction='vertical' src=" background_position='top left' background_repeat='no-repeat' animation=" mobile_breaking=" mobile_display=" av_uid='av-334xcmr']
[av_textblock size=" font_color=" color=" av-medium-font-size=" av-small-font-size=" av-mini-font-size=" av_uid='av-ka2mqt58′ admin_preview_bg="]


[/av_textblock]
[/av_one_full]

[av_textblock size=" font_color=" color=" av-medium-font-size=" av-small-font-size=" av-mini-font-size=" av_uid='av-k9u75ws8′ admin_preview_bg="]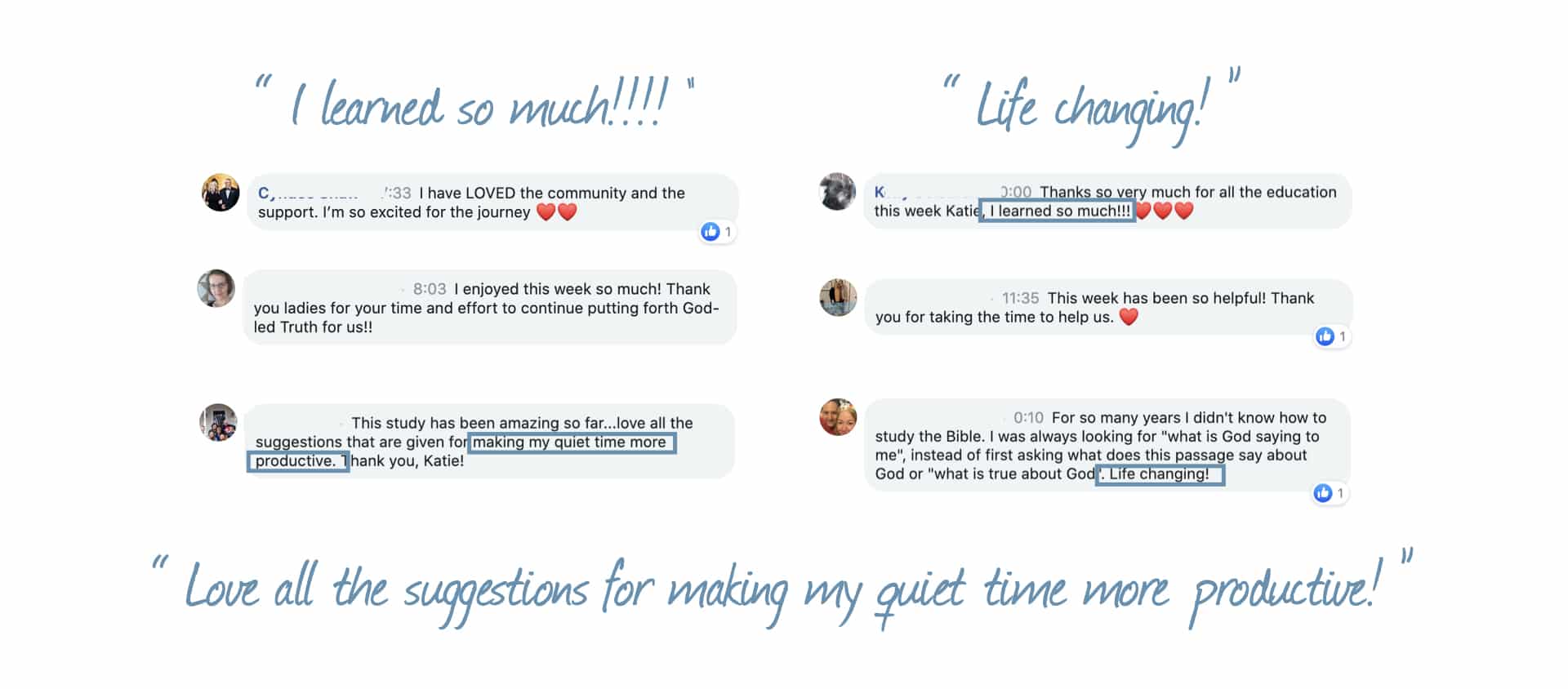 [/av_textblock]

[av_section min_height=" min_height_px='500px' padding='default' shadow='no-border-styling' bottom_border='no-border-styling' bottom_border_diagonal_color='#333333′ bottom_border_diagonal_direction=" bottom_border_style=" custom_margin='0px' custom_margin_sync='true' custom_arrow_bg=" id=" color='main_color' background='bg_color' custom_bg='#5f92b0′ background_gradient_color1=" background_gradient_color2=" background_gradient_direction='vertical' src=" attachment=" attachment_size=" attach='scroll' position='top left' repeat='no-repeat' video=" video_ratio='16:9′ overlay_opacity='0.5′ overlay_color=" overlay_pattern=" overlay_custom_pattern=" av_element_hidden_in_editor='0′ av_uid='av-jsezbrxd']
[av_textblock size=" font_color='custom' color='#ffffff' av-medium-font-size=" av-small-font-size=" av-mini-font-size=" av_uid='av-jsez8ikb' admin_preview_bg="]

Don't miss this easy-to-implement 5-day training. I'll give you quick and simple actions to take each day and will be with you to cheer you on every step of the way.

[/av_textblock]
[/av_section]

[av_one_full first min_height=" vertical_alignment=" space=" custom_margin=" margin='0px' row_boxshadow=" row_boxshadow_color=" row_boxshadow_width='10' link=" linktarget=" link_hover=" padding='0px' highlight=" highlight_size=" border=" border_color=" radius='0px' column_boxshadow=" column_boxshadow_color=" column_boxshadow_width='10' background='bg_color' background_color=" background_gradient_color1=" background_gradient_color2=" background_gradient_direction='vertical' src=" background_position='top left' background_repeat='no-repeat' animation=" mobile_breaking=" mobile_display=" av_uid='av-334xcmr']
[av_textblock size=" font_color=" color=" av-medium-font-size=" av-small-font-size=" av-mini-font-size=" av_uid='av-ka2mqt58′ admin_preview_bg="]


[/av_textblock]
[/av_one_full]