Are you a weary mom? Do you need a little hope tossed your way?
Brooke McGlothlin and Stacey Thacker understand. They even wrote a book about it:
Our stories are still very much being written. We are two moms who met each other and God in the middle of our messy lives. This book is our honest cry of sorts. He has used mothering to break and mold us. His hands are still working on these lumps of clay. We are grateful He sees the beautiful lovely inside our hearts and calls us His own. From the new Hope for the Weary Mom. p. 13.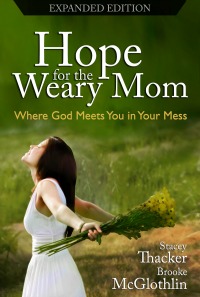 Hope for the Weary Mom started out as a blog post, became a series, then a small e-book.  In the process of sharing their own personal journeys, Brooke and Stacey found thousands of other moms who felt the same way. They decided to expand the original e-book with 50% more content, added chapters and a question and answer section.
This newly expanded book is available for the first time today!
The honesty in Hope for the Weary Mom allows me to breath a little easier. Knowing that other weary moms out there feel and experience the same challenges that I do truly is a relief and provides my heart and soul with such encouragement.  –Sarah Hawbaker at In Total Disarray
Because they want every mom who needs it to find hope, Brooke and Stacey are offering their newly expanded book for free at Amazon for Kindle readers today (10/23) – tomorrow 10/24).
To celebrate the book release, they are hosting a progressive Facebook Party starting at the Better Mom.  You can find out all the details including a list of amazing prizes they are giving away at the party right here.
I'll actually be at Stacey's home tomorrow night, so I will be there behind the scenes! I hope you'll join us.
Katie
https://katieorr.me/wp-content/uploads/2018/07/Katie-Orr-Bible-Teacher.png
Katie
2012-10-23 01:41:33
2015-01-09 16:41:52
New Hope for the Weary Mom {Free eBook!}