My heart is full, and so thankful to the Lord for the gift of being able to go to The Relevant Conference.
I am counting just a few of the gifts from this past weekend.
#802 A husband who made up a fake Twitter handle, just to find me a ticket!
#803 Making it safely to Harrisburg. (Apparently, our plane was on fire.)
#804 Meeting so many friends—for the first time! I did a horrible job at getting pictures with everyone…I was too busy visiting! I did get a handful…
Joy of Grace Full Mama.
Heather of God Centered Mom.
Rachel of Finding Joy.
Amanda of Impress Your Kids.
#805 My roomies, Stacey and Lara. I'm sad I didn't get a picture with either one of them, which is crazy since we were together THE WHOLE WEEKEND. They were the perfect roommates, and are dear, dear friends. Thankful for Smilebooth:
#806 Hanging out with #Hellomornings crew! I love these ladies. It is a joy to minister alongside of them through Inspired to Action. Excited for all is to come!
#807 Being in a place where checking Twitter during dinner is not rude, ten minute conversations about re-tweeting is normal, and sometimes the best part of the moment was something said on Twitter. It is an unexplainable thing, these social media friendships, and it was fun to be surrounded by people who get it.
#808 Connecting with Johanna and the rest of the One Verse/Seed Company team. I am so excited about continuing this partnership with them to help bring the Word of God to the nations!
#809 Attending the Mom Heart breakfast and meeting Sally Clarkson. Excited I got to bring home some of her books that have been on my wish-list!
#810 My generous in-laws who kept my two younger ones while I was away.
#811 Coming home to a clean house, and a cleaned out minivan!
#812 Getting to meet Ann, and receive her encouraging words.
#813 Being in relationship with God who knew exactly the gifts I needed to receive.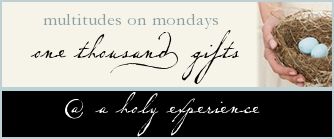 Linking up (late!)
Katie
https://katieorr.me/wp-content/uploads/2018/07/Katie-Orr-Bible-Teacher.png
Katie
2011-11-02 01:59:07
2015-01-09 16:44:10
Oh So Many Gifts