I've been trying out all sorts of fun new recipes lately. If you follow me on Instagram, you know this well.
I recently took the 
21 day sugar detox
. (affiliate link)I should say I
loosely
took the challenge. Though I didn't follow it perfectly (I allowed myself a bit of whole grains and whole-fat dairy … and I had my share of Dairy-Queen-moment-of-weakness) I enjoyed being pushed out of my box for snacks to eat and ways to satisfy my sweet-tooth. I love to bake, but most baked-goods are filled with sugar and flour, both of which end up on my midsection and flair my eczema.The challenge was just the push I needed to better explore the world of Paleo eating and experiment with new recipes!My husband Chris has been eating "Paleo" for a while now. Lots of fruits, veggies, meat, and eggs with no grains, no refined sugars, and no starchy veggies (corn, potatoes, etc). Paleo is all about getting back to eating "clean" food — food that is as close to its original form as possible.
It's been quite a shift for me, as I've never been a big meat-eater, but I am growing to really like it, especially for the baked goods!
Here are a few of my favorite recipes so far:
Paleo Banana Bread I've made this recipe several times, each time as muffins. They are packed with nutrients. I like to mix frozen berries and walnuts, or almond slivers and dark chocolate chips. They freeze well, and you can reheat them for a quick and easy breakfast option. A hit with the kiddos!
Paleo Chocolate Chip Cookies I've tried out a few different cookie recipes, but these are incredible. They were actually a bit on the sweet end, so next time I am going to use a bit less honey, and there were way too many chocolate chips (which are not officially Paleo!) so I'll only use one cup next time. Definitely will add walnuts, too. I'm looking forward to trying out a bunch of variations of this recipe.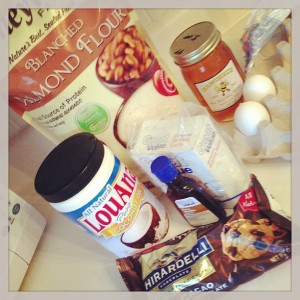 Paleo Herb Bread This was awesome right out of the oven, although a bit too salty for my taste. I will cut down on the amount of salt next time, but I think this will be a good starting point for something awesome. I baked it in a round cake pan, so it only took about 25 minutes to bake. It was a side for dinner, and bread for sandwiches the next few days.
While we are certainly not a grain/sugar-free family (and if you catch me at the ballpark and hungry you will probably find a hotdog in my hand) it has been fun to experiment with these recipes at home and begin replacing some of our more sugary/processed snack options with more healthy choices. It is great to know that every ingredient in these "treats" are power-packed with nutrients!
There is a great Paleo ebook bundle available this week. (affiliate link) It is a steal at $7.40 — more than 85% off retail — for all five ebooks. I'm excited to grab my copy, as I have been wanting to get the Toadally Primal Smoothies ebook. The 21 Day Sugar Detox comes with several recipes from this ebook, and there is one shake in there that Chris and I really enjoy made of coconut milk or coconut water, macadamia nuts, cocoa powder, ice, coconut oil and banana. Yum. Creamy, chocolatey goodness.
This bundle is only for one week only, so grab it while you can! I'm off to get mine now…
Have you heard of Paleo living before? Have any recipes to share? Let me know in the comments!
https://katieorr.me/wp-content/uploads/2018/07/Katie-Orr-Bible-Teacher.png
0
0
Katie
https://katieorr.me/wp-content/uploads/2018/07/Katie-Orr-Bible-Teacher.png
Katie
2013-06-10 08:00:29
2015-01-09 16:41:05
I'm not much of a cook, but I love to bake.